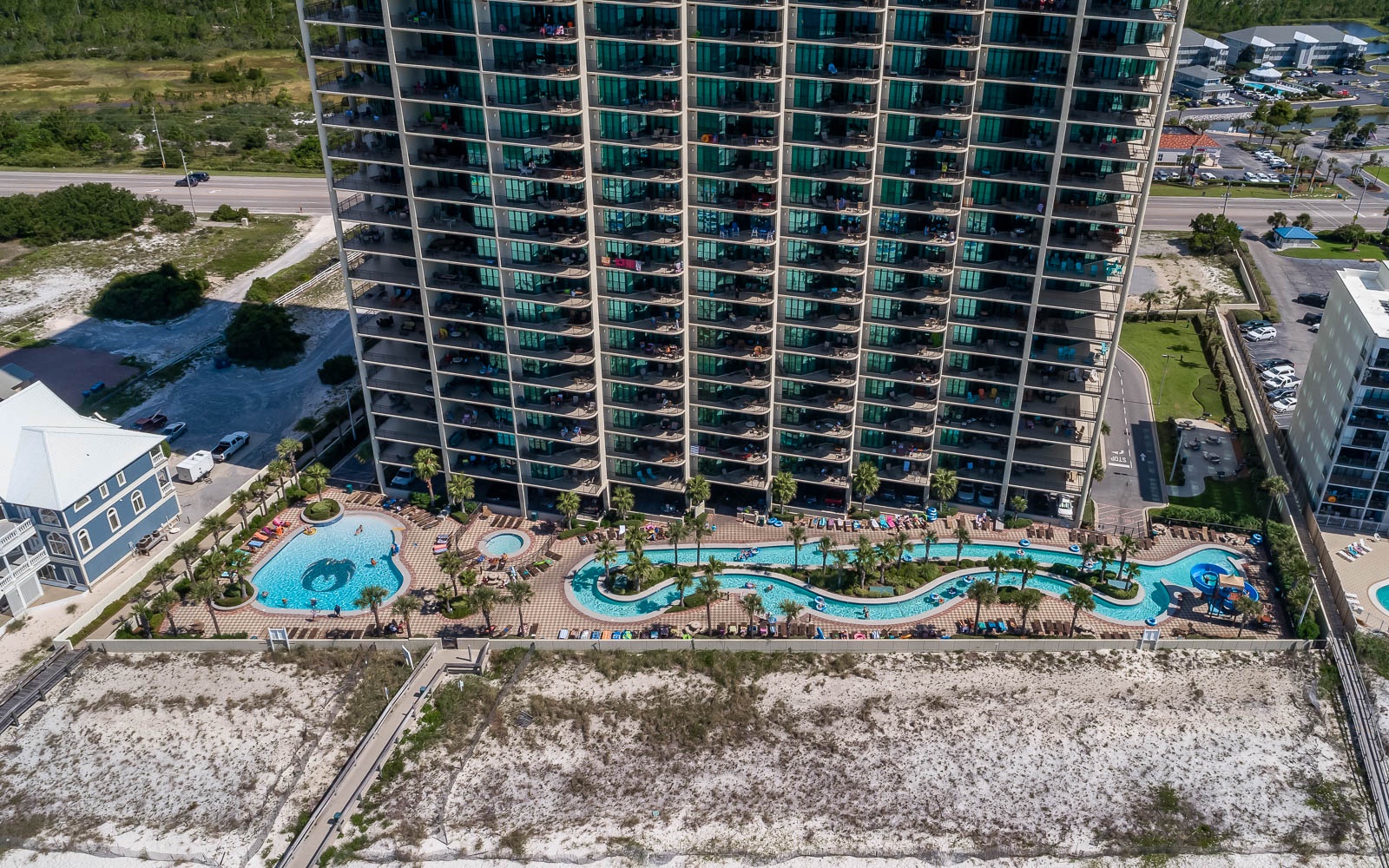 Approx 4.3 miles east of Hwy 59
Phoenix West
23972 Perdido Beach BlvdOrange Beach, AL 36561
Take in the bird's eye view from the beautiful balcony at Phoenix West! Offering 3- and 4-bedroom condos, there will be room for all your family and friends to stay together during vacation!

Enjoy the most luxurious amenities during your stay! Coast around the lazy river or take a splash down the cork-screw slide. You can even enjoy a peaceful swim in the zero-entry pool! Dip your toe into the indoor pool or warm up in the sauna or the hot tubs. Cook a meal for the whole family at the common area barbecue grills! Sweat it out at the property exercise facility or make a match point during a game of tennis at the tennis court!

There's so much to do and enjoy while you are staying at Phoenix West and in Orange Beach! From delicious restaurants to family fun at the arcade and putt-putt golf, there's something to do for everyone! The most important part is that you are just steps away from the sugar-white sand of the Gulf Coast!

Book a condo at Phoenix West today! Find the best in Orange Beach rentals through Brett/Robinson. Contact us today to make your reservation.
Recently Sold Units
MLS #: 318199
Phoenix West Unit #: 1805
23972 1805 Perdido Beach Blvd
Orange Beach, AL 36561
3 Beds | 4
MLS #: 318199
Phoenix West Unit #: 1805
23972 1805 Perdido Beach Blvd
Orange Beach, AL 36561
3 Beds | 4
MLS #: 318199
Phoenix West Unit #: 1805
23972 1805 Perdido Beach Blvd
Orange Beach, AL 36561
3 Beds | 4
MLS #: 323075
Phoenix West Unit #: 1403
23972 1403 Perdido Beach Blvd
Orange Beach, AL 36561
3 Beds | 4
MLS #: 323075
Phoenix West Unit #: 1403
23972 1403 Perdido Beach Blvd
Orange Beach, AL 36561
3 Beds | 4
MLS #: 323075
Phoenix West Unit #: 1403
23972 1403 Perdido Beach Blvd
Orange Beach, AL 36561
3 Beds | 4
MLS #: 323205
Phoenix West Unit #: 1108
23972 1108 Perdido Beach Blvd
Orange Beach, AL 36561
3 Beds | 4
MLS #: 323205
Phoenix West Unit #: 1108
23972 1108 Perdido Beach Blvd
Orange Beach, AL 36561
3 Beds | 4
MLS #: 323205
Phoenix West Unit #: 1108
23972 1108 Perdido Beach Blvd
Orange Beach, AL 36561
3 Beds | 4
MLS #: 323061
Phoenix West Unit #: 1708
23972 1708 Perdido Beach Blvd
Orange Beach, AL 36561
3 Beds | 4
MLS #: 323061
Phoenix West Unit #: 1708
23972 1708 Perdido Beach Blvd
Orange Beach, AL 36561
3 Beds | 4
MLS #: 323061
Phoenix West Unit #: 1708
23972 1708 Perdido Beach Blvd
Orange Beach, AL 36561
3 Beds | 4
MLS #: 319600
Phoenix West Unit #: 605
23972 605 Perdido Beach Blvd
Orange Beach, AL 36561
3 Beds | 4
MLS #: 319600
Phoenix West Unit #: 605
23972 605 Perdido Beach Blvd
Orange Beach, AL 36561
3 Beds | 4
MLS #: 322039
Phoenix West Unit #: 1206
23972 1206 Perdido Beach Blvd
Orange Beach, AL 36561
3 Beds | 4
MLS #: 322039
Phoenix West Unit #: 1206
23972 1206 Perdido Beach Blvd
Orange Beach, AL 36561
3 Beds | 4