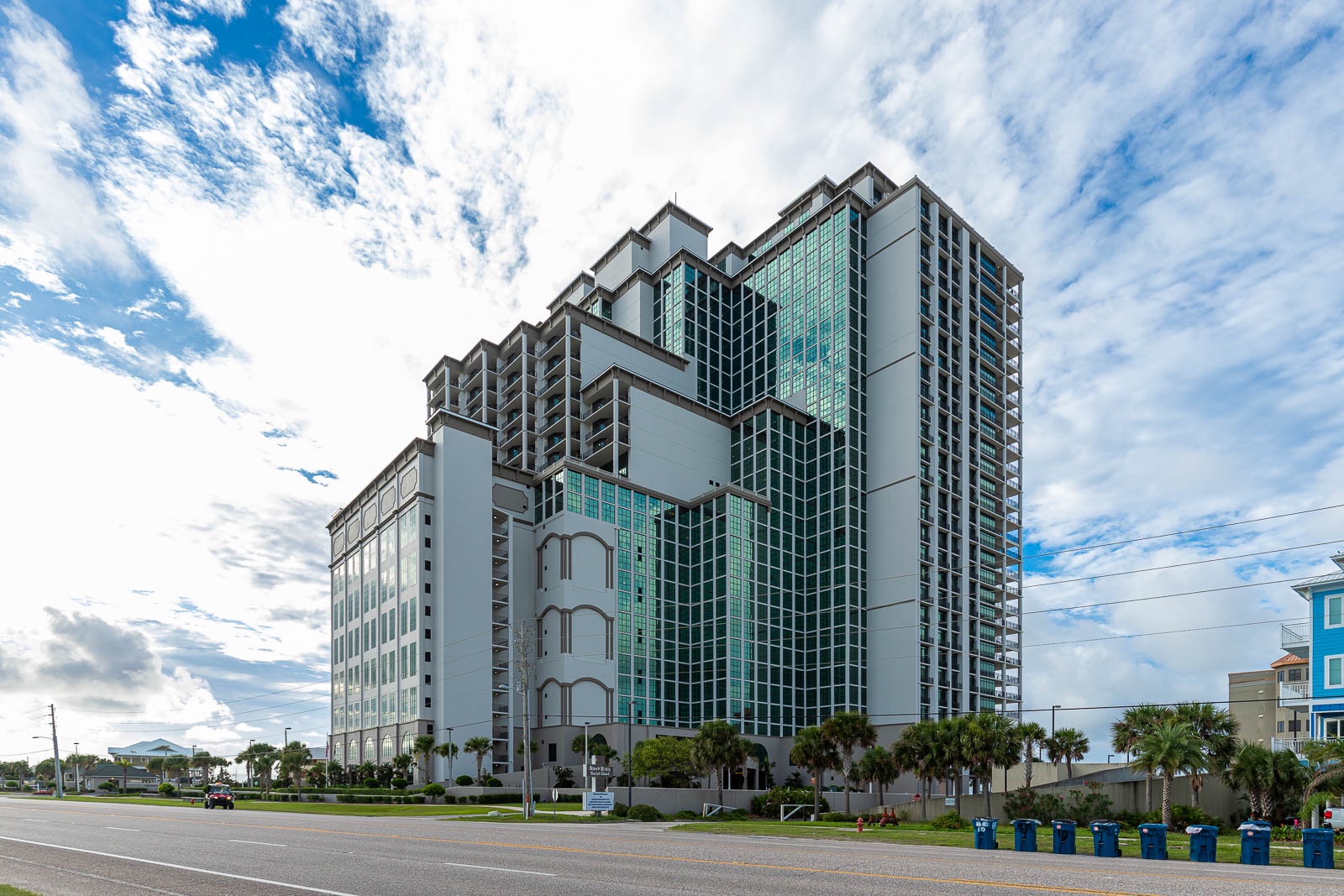 Approx 3 miles east of Hwy 59
Phoenix West II
23450 Perdido Beach Blvd.Orange Beach, AL 36561
One of the most luxurious properties on the beach, Phoenix West II offers beautiful units with panoramic Gulf Views and superior on-site amenities!

Relax as you float on the lazy river! Make a splash when you take a ride down the corkscrew water slide! Cool down when you leap into either the indoor or outdoor pools! Warm up and unwind when you soak in the hot tubs or bask in the sauna!

Sweat it out during your workout in the multi-level fitness center. Keep up your tennis game by playing a match with your friends or family at the onsite court. Beautiful multi-level lobbies will welcome you to paradise after you park in completely covered and glassed-in parking deck.

There's so much fun to explore in Orange Beach and close to your accommodations! From food to fishing to golf and history, you won't like for excitement when you and your love ones stay with Brett/Robinson! Most importantly, you'll be only steps from paradise on the sugar-white sands of the Alabama Gulf Coast!

Join us at Phoenix West II for the best in vacation relaxation! Contact us today to make your reservation.
Recently Sold Units
MLS #: 322708
Phoenix West II Unit #: 1703
23450 1703 Perdido Beach Blvd
Orange Beach, AL 36561
3 Beds | 4
MLS #: 322708
Phoenix West II Unit #: 1703
23450 1703 Perdido Beach Blvd
Orange Beach, AL 36561
3 Beds | 4
MLS #: 322708
Phoenix West II Unit #: 1703
23450 1703 Perdido Beach Blvd
Orange Beach, AL 36561
3 Beds | 4
MLS #: 323502
Phoenix West II Unit #: 910
23450 910 Perdido Beach Blvd
Orange Beach, AL 36561
3 Beds | 4
MLS #: 323502
Phoenix West II Unit #: 910
23450 910 Perdido Beach Blvd
Orange Beach, AL 36561
3 Beds | 4
MLS #: 323502
Phoenix West II Unit #: 910
23450 910 Perdido Beach Blvd
Orange Beach, AL 36561
3 Beds | 4
MLS #: 323008
Phoenix West II Unit #: 1111
23450 1111 Perdido Beach Blvd
Orange Beach, AL 36561
4 Beds | 4
MLS #: 323008
Phoenix West II Unit #: 1111
23450 1111 Perdido Beach Blvd
Orange Beach, AL 36561
4 Beds | 4
MLS #: 323008
Phoenix West II Unit #: 1111
23450 1111 Perdido Beach Blvd
Orange Beach, AL 36561
4 Beds | 4
MLS #: 321621
Phoenix West II Unit #: 903
23450 903 Perdido Beach Blvd
Orange Beach, AL 36561
3 Beds | 4
MLS #: 321621
Phoenix West II Unit #: 903
23450 903 Perdido Beach Blvd
Orange Beach, AL 36561
3 Beds | 4
MLS #: 321621
Phoenix West II Unit #: 903
23450 903 Perdido Beach Blvd
Orange Beach, AL 36561
3 Beds | 4
MLS #: 320945
Phoenix West II Unit #: 902
23450 902 Perdido Beach Blvd
Orange Beach, AL 36561
3 Beds | 4
MLS #: 320945
Phoenix West II Unit #: 902
23450 902 Perdido Beach Blvd
Orange Beach, AL 36561
3 Beds | 4
MLS #: 317972
Phoenix West II Unit #: 1904
23450 1904 Perdido Beach Blvd
Orange Beach, AL 36561
3 Beds | 4
MLS #: 317972
Phoenix West II Unit #: 1904
23450 1904 Perdido Beach Blvd
Orange Beach, AL 36561
3 Beds | 4
MLS #: 322215
Phoenix West II Unit #: 904
23450 904 Perdido Beach Blvd
Orange Beach, AL 36561
3 Beds | 4