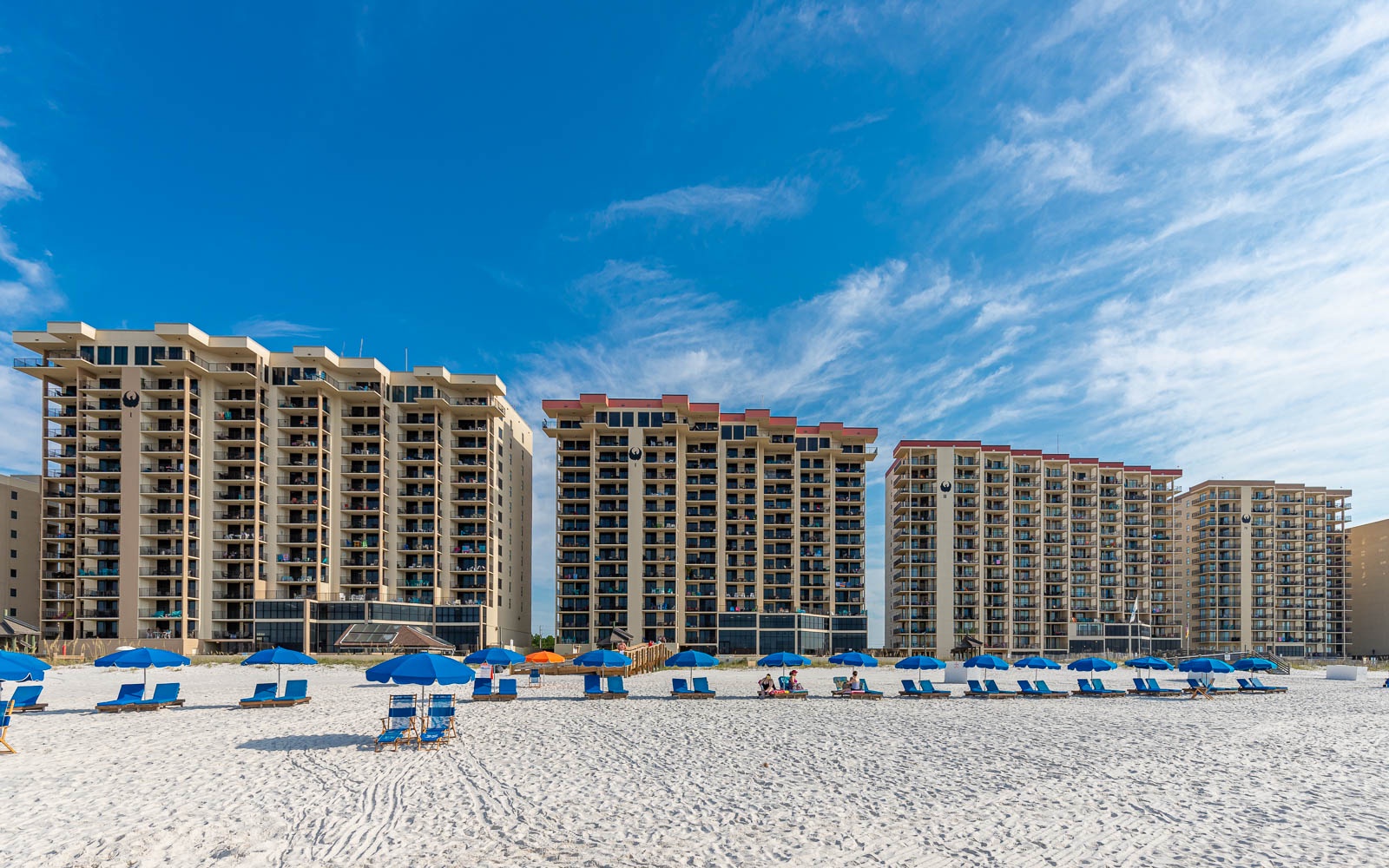 Approx 4.5 miles east of Hwy 59
Phoenix II
24160 Perdido Beach BlvdOrange Beach, AL 36561
When staying at Phoenix II, you'll experience gulf-front views, immediate beach access and enough family fun for the whole family! Enjoy a weekend getaway perfect for two or a relaxing family vacation with all your loved ones. Whichever you choose, you'll find a beautiful condo here from 1 to 3 bedrooms.

The best in amenities are also available on the Phoenix II property! An outdoor pool that is heated in the winter for your enjoyment. Hot tubs, a sauna, and a children's pool for the little ones are also available. There's a lot to do just steps from your vacation rental. Beach volleyball, racquetball and tennis courts are available on the grounds plus the exercise room to stay in shape.

We know your main attraction is the sugar white sands and emerald waves of the Gulf of Mexico, which are just steps from your accommodations. Our condos have gulf front views from their balconies as well.

Another plus of Phoenix II is its location to wonderful dining! You are immediately across the street from the brilliant brunch at The Ruby Slipper Café or delighting in dinner at Doc's Seafood & Steaks (with some of the best seafood on the coast)! You're also close to Fin & Fork that makes for a great special meal!

If we've got you dreaming of the beach, know that you don't have to wait to have a great getaway at Phoenix II in Orange Beach. Book now to get fantastic deals and to enjoy all the fun things you can do in the Orange Beach and Gulf Shores area!
Brett Robinson's Orange Beach rentals are your home away from home in Alabama. Take a look at our selection of Orange Beach condos and book your vacation today!

Wristbands will be issued to all guests upon check in. Wristbands are required to access the property and property amenities year round.
Recently Sold Units
MLS #: 323147
Phoenix II
24160 Perdido Beach Blvd # 2012, Orange Beach AL 36561
2 Beds | 2 Baths
MLS #: 319372
Phoenix II
24160 Perdido Beach Blvd # 2141, Orange Beach AL 36561
3 Beds | 2 Baths
MLS #: 315289
Phoenix II
24160 Perdido Beach Blvd # 2046, Orange Beach AL 36561
1 Beds | 1 Baths
MLS #: 307349
Phoenix II
24160 Perdido Beach Blvd # 2044, Orange Beach AL 36561
1 Beds | 1 Baths
MLS #: 308164
Phoenix II
24160 Perdido Beach Blvd # 2101, Orange Beach AL 36561
3 Beds | 2 Baths