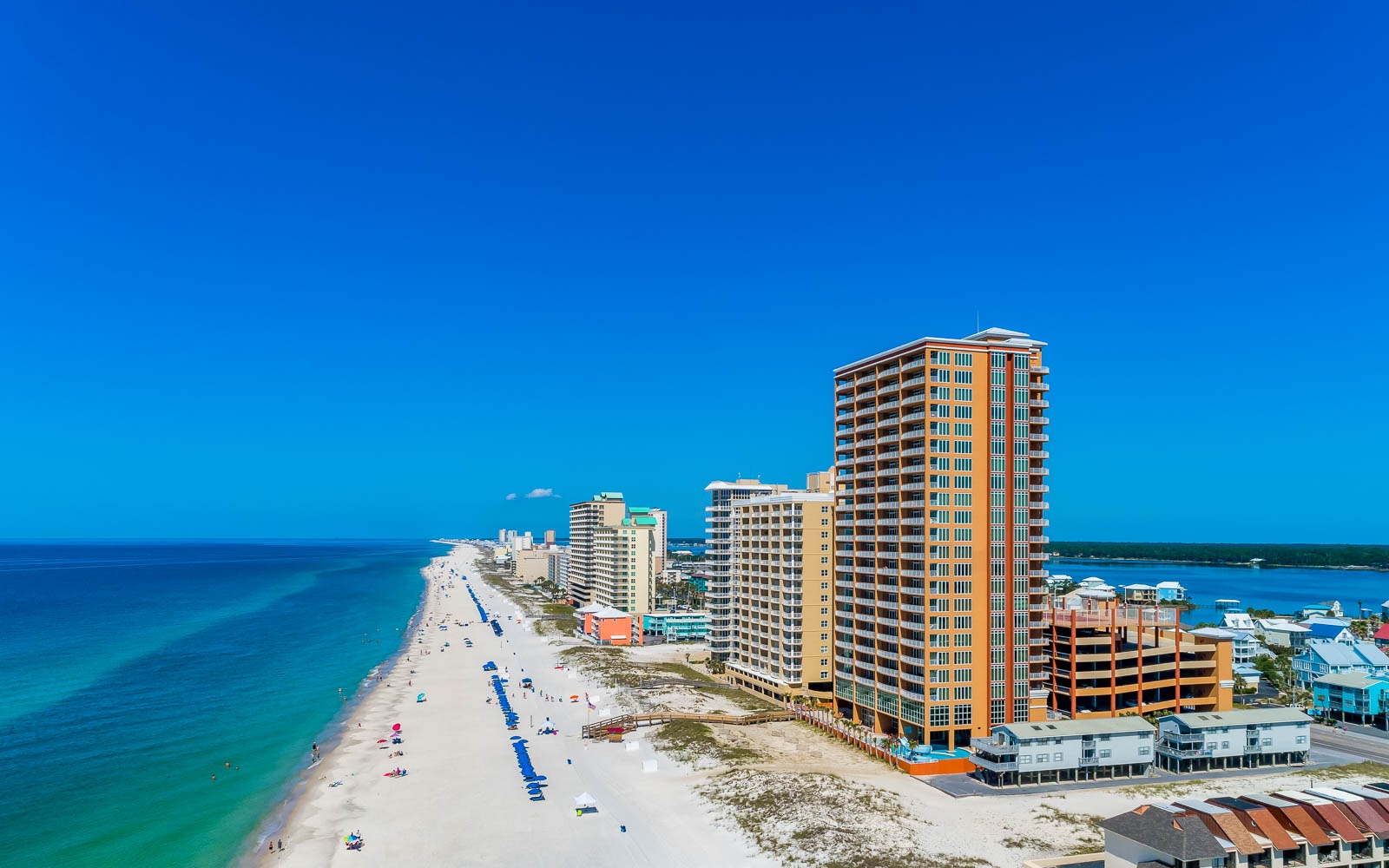 Phoenix Gulf Shores
801 West Beach Blvd.Gulf Shores, AL 36542
Surrounded by beauty, the views from Phoenix Gulf Shores offer miles of sugar-white sand beaches on one side and the beauty of Little Lagoon on the other. In the heart of Gulf Shores, this Phoenix property features three- and four-bedroom condos each with their own Gulf-front 35-foot-long balcony. It's everything you and your loved ones could dream of in a beach vacation!

Enjoy all the resort-style amenities from a beachfront outdoor zero-entry pool, a corkscrew waterslide, heated zero-entry indoor pool, hot tubs, a fitness center, and tennis courts. The activities and fun are endless!
Each condo at the Phoenix Gulf Shores feature a Gulf-front master bedroom with direct balcony access, a Jacuzzi-style jetted tub in the master bathroom, a wheelchair-accessible bathroom, and floor-to-ceiling glass windows for the best view of paradise.

In the heart of Gulf Shores, you can walk or ride your bike to many of the hot spots in the area. Enjoy dining at Bahama Bob's Beach Side Café just down the beach or take a longer stroll to the Hangout on the main beach. Have a seat on the porch of the infamous Pink Pony or take a stroll through the many shops along the way.

We look forward to welcoming you to our shores at Phoenix Gulf Shores for your next vacation!
Recently Sold Units
MLS #: 321233
Phoenix Gulf Shores Unit #: 403
801 403 W Beach Blvd
Gulf Shores, AL 36542
3 Beds | 3
MLS #: 321233
Phoenix Gulf Shores Unit #: 403
801 403 W Beach Blvd
Gulf Shores, AL 36542
3 Beds | 3
MLS #: 321233
Phoenix Gulf Shores Unit #: 403
801 403 W Beach Blvd
Gulf Shores, AL 36542
3 Beds | 3
MLS #: 321565
Phoenix Gulf Shores Unit #: 304
801 304 W Beach Blvd
Gulf Shores, AL 36542
4 Beds | 3
MLS #: 321565
Phoenix Gulf Shores Unit #: 304
801 304 W Beach Blvd
Gulf Shores, AL 36542
4 Beds | 3
MLS #: 321565
Phoenix Gulf Shores Unit #: 304
801 304 W Beach Blvd
Gulf Shores, AL 36542
4 Beds | 3
MLS #: 310199
Phoenix Gulf Shores Unit #: 1704
801 1704 W Beach Blvd
Gulf Shores, AL 36542
4 Beds | 3
MLS #: 310199
Phoenix Gulf Shores Unit #: 1704
801 1704 W Beach Blvd
Gulf Shores, AL 36542
4 Beds | 3
MLS #: 310199
Phoenix Gulf Shores Unit #: 1704
801 1704 W Beach Blvd
Gulf Shores, AL 36542
4 Beds | 3
MLS #: 322949
Phoenix Gulf Shores Unit #: 1503
801 1503 W Beach Blvd
Gulf Shores, AL 36542
3 Beds | 3
MLS #: 322949
Phoenix Gulf Shores Unit #: 1503
801 1503 W Beach Blvd
Gulf Shores, AL 36542
3 Beds | 3
MLS #: 313342
Phoenix Gulf Shores Unit #: 1601
801 1601 W Beach Blvd
Gulf Shores, AL 36542
4 Beds | 3
MLS #: 313342
Phoenix Gulf Shores Unit #: 1601
801 1601 W Beach Blvd
Gulf Shores, AL 36542
4 Beds | 3
MLS #: 313342
Phoenix Gulf Shores Unit #: 1601
801 1601 W Beach Blvd
Gulf Shores, AL 36542
4 Beds | 3
MLS #: 312299
Phoenix Gulf Shores Unit #: 604
801 604 W Beach Blvd
Gulf Shores, AL 36542
4 Beds | 3
MLS #: 312299
Phoenix Gulf Shores Unit #: 604
801 604 W Beach Blvd
Gulf Shores, AL 36542
4 Beds | 3
MLS #: 306665
Phoenix Gulf Shores Unit #: 1504
801 1504 W Beach Blvd
Gulf Shores, AL 36542
4 Beds | 3
MLS #: 306665
Phoenix Gulf Shores Unit #: 1504
801 1504 W Beach Blvd
Gulf Shores, AL 36542
4 Beds | 3
MLS #: 312332
Phoenix Gulf Shores Unit #: 1102
801 1102 W Beach Blvd
Gulf Shores, AL 36542
3 Beds | 3
MLS #: 308463
Phoenix Gulf Shores Unit #: 802
801 802 W Beach Blvd
Gulf Shores, AL 36542
3 Beds | 3